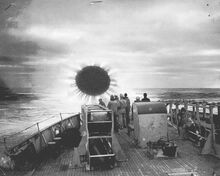 "Project Rainbow, better known as The Philadelphia Experiment, took place on October 28, 1943."[1] The notion that this experiment took place at Philidelphia is disinformation. It really occurred at Rhode Island.[2] The Navy personnel onboard observed the experiment of molecular energy cycles as the U.S. Navy ship Eldridge entered a brief time warp. "During the actual experiment, the ship and crew disappeared and were located in another body of water re-materialized, though some crew members had bodies fused into the hull of the ship and still alive. All the crew, if not insane upon initial re-materialization, were institutionalized for mental disorders or committed suicide directly associated with this event."[3]
The list of scientists who worked on this project includes Albert Einstein, Vannevar Bush, John von Neumann, and Nikola Tesla.[4][5]
References
Edit
Ad blocker interference detected!
Wikia is a free-to-use site that makes money from advertising. We have a modified experience for viewers using ad blockers

Wikia is not accessible if you've made further modifications. Remove the custom ad blocker rule(s) and the page will load as expected.