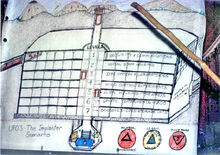 "Dulce Base" is a "Tri-Biotransfer Facility with Advanced Technology, doing advanced adventurous methodology for medical and mental gains."[1]
The ETs speak a common language known as Eusshu. This language is logical and easy to learn.
History
Nature started the caverns. The Draco used the caverns and tunnels for centuries. Later, through RAND Corporation plans, it was enlarged repeatedly. Explosions were sometimes used to expand the cavern in the 1960's. The original caverns included ice caves and sulfur springs that the ETs found perfect for their needs. The Dulce caverns rival Carlsbad caverns in size.
Dulce was started in 1937-38 by the Army engineers, enlarged over the years, most recent work was completed 1965-66 to connect tunnels to the Page [Arizona] Base.
Altercations raged throughout Dulce Base beginning in 1979.
Structure
The First Level starts 200 feet from the surface. Each level has a ceiling of seven feet, except levels six and seven, the ceiling there is 45 and 60 feet. There are approximately 45 feet or more of Earth between each level. The average highway ceiling is twenty five feet. The HUB at the base is 3,000 feet wide.
Deep sections of the complex connect into the natural cavern system. The Draco control levels 5-7.
Level 1 - Security & Communications
Here is "the garage for street maintenance."
Level 2 - Human Staff Housing
Here is "the garage for trains, shuttles, tunnel-boring machines, and disk maintenance."
Level 3 - Executive Offices & Laboratories
Level 4 - Mind Control Experiments
Level 5 - Alien Housing - The Greys
There is a garage on the west side.
Level 6 - The Vivarium
Many of the inmates at Dulce are missing people.
Several different ET races work in the eastern section of level 6, including some allied Nordic factions.
Level 7 - Cryogenics - Cold Storage Vats
Khaarshfashst is the royal white Draco in charge of Dulce. His name means "keeper of the laws." 
References